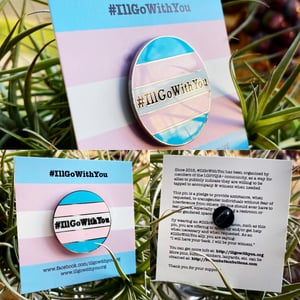 $

11.50
*** $3 FROM EACH ENAMEL PIN SOLD FROM FEBRUARY 18-22 WILL BE DONATED TO THE LITTLE PETAL ALLIANCE!!!
The Little Petal Alliance is a non-profit organization, based in Austin (TX), which assists BIPOC and trans individuals by providing a comprehensive mental wellness package including therapy, employment connections, and resources to help combat dysphoria for those experiencing it, such as hair removal, make up kits and tutorials, clothing, wigs, voice training, etc.
Right now, TLPA is helping their fellow Texans secure access to warm shelter, food, and other resources during the current emergency winter weather situation. You can also donate directly here.
These 1.25" diameter hard enamel pins are diestruck in silver-plated metal and polished to jewelry quality (similar to a cloisonné pin). They are backed with a solid metal stud pin and a black rubber clasp. They are individually bagged and attached to a backing card, with information about what being an #IllGoWithYou ally means.
Button Button designed the official #IllGoWithYou artwork, with the assistance of the team behind #IllGoWithYou. You can find out more about #IllGoWithYou at http://www.illgowithyou.org