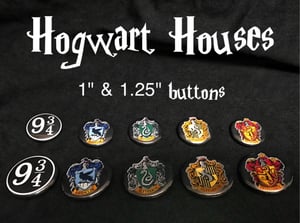 $

1.50
Want to show off which house you've been sorted into? Maybe let people know which train platform you're headed toward?
Perfect for any Harry Potter fan, these buttons feature a full-color quality artwork print, are coated with a clear high-gloss UV & weather resistant mylar finish, and are backed with a metal clasp pin-back.
The artwork is the exact same on the 1" button and 1.25" button... the only difference is the size!
[Shipping available to United States. Please see the shipping information page for details on international shipping.]